Meet Dr. Michelle Kerr Patrick
Deciding on the Natural Healing Profession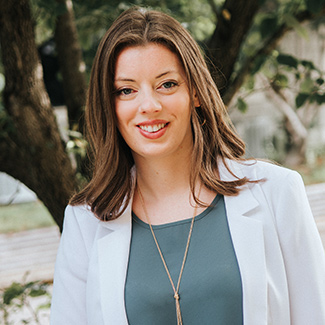 Planning to enter the medical field, Dr. Kerr Patrick studied biology during her undergraduate years at the University of West Florida. She took the time to shadow every related professional she could think of – an optometrist, orthopedist, cardiologist, pharmacist and more. One day, it was time to visit the chiropractor, who she'd met in high school to get help with soccer injuries and headaches.
"I thought it was so different from the hospital environment. With chiropractic, we want to figure out the underlying problem and fix it. I thought it was simple and made sense. I wanted to go into medicine to help people, but if the cause wasn't addressed, it would only assist them temporarily. Chiropractic was the perfect career for me."
A Chiropractic Education
Dr. Kerr Patrick enrolled at Palmer College of Chiropractic in Port Orange, Florida. While there, she was involved with the Pettibon Club and helped found the Scoliosis Mentorship Program. Its members worked with the CLEAR Institute, a leading researcher on scoliosis structural correction. Dr. Kerr Patrick arranged their teachings to be brought to campus, doing seminars for chiropractors and students and helping students get certified in the program. This involvement taught her a great deal in looking at the full picture of a patient's health.
Since then she has continued to hone her adjusting skills especially in extremities (things like shoulders, knees, ankles, wrists, jaws, etc.) and continues to study the topics she uses most to help patients. Her continued studies in nutrition have resulted in a certification in Applied Nutritional Analysis Certification. She is also a diplomate in acupuncture from the International Academy of Medical Acupuncture.
The Greatest Gift I Can Imagine…
Dr. Kerr Patrick considers her greatest accomplishments the small wins she gets to witness every day. "A mom with migraines might be faced with losing her job because of missed time at work. She gets home and can't spend time with her family. Each person's story is different, but they're the reason I do what I do. You can get your life back. If I can return you to living out your purpose, it's the greatest gift I can imagine."
CHIROPRACTIC CARE »
Outside of the Office
Dr. Kerr Patrick is married to her husband Jonathan and has a daughter Audrey, sons Anders, Eden, and Cohen. She likes to spend time with her family, be outside, garden, and do arts and crafts. As a former soccer athlete, she enjoys sports and has coached her daughter's soccer team.
She is a member of the Alabama State Chiropractic Association.
Contact Healing Touch Chiropractic today to learn more about getting your life back! We welcome the opportunity to help you and your family.

Chiropractor Mobile: (251) 289-1482 | Fairhope: 251-990-8188