Healing Touch Chiropractic in Mobile
Whether you enjoy running, kayaking, fishing or the many other activities The Port City has to offer, you want to do them pain-free. Friendly and caring, Dr. Michelle Kerr Patrick and Dr. Paige Whalen are passionate about helping patients put pain in the past and experience optimal health—so they can get the most out of life.
I know this is what I'm supposed to be doing with my life. It's a tremendous honor to do what I do, and I am changing people's lives.
Dr. Michelle Kerr Patrick
Calling Mobile Her Home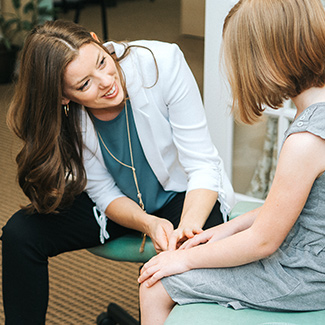 As she moved to Pensacola from Wisconsin to attend the University of West Florida as an undergrad, Dr. Kerr Patrick quickly got used to the warmer weather. After graduating from chiropractic college, she felt that our beautiful town was an ideal place to set up shop and provide chiropractic care to those who need it.
Dr. Kerr Patrick is a family practitioner who cares for babies, children, athletes, expecting moms and everyone who is seeking to live a healthier life.
In our warm and welcoming practice environment, you'll feel right at home. We feature plenty of things for kids to do and you can relax before your appointment.
Offering Many Services Under One Roof
At our practice, you can access the following healing services:
Making Care Accessible to All
Dr. Kerr Patrick believes that safe and natural health care should be accessible to everyone in our lovely city. If you have a major medical insurance like BCBS, VIVA, UHC, Aetna, or Cigna, etc. we accept those and will gladly file it for you making utilizing your insurance benefits a snap. If you don't have insurance, don't fret as we keep our prices affordable, and we participate in several programs that you may qualify for. Dr. Patrick accepts Care Credit, ChiroHealth USA and participates with Victory Health Partners and The Patriot Project.
ChiroHealth USA is a discount medical plan for patients not utilizing insurance benefits that allow the members' entire families to benefit from a discount at every visit.
Victory Health Partners is Mobile's local solution to the healthcare crisis. For anyone without insurance, you can seek care here and they will determine your income level and assign you a co-pay that you're responsible for. From here they will refer you to doctors who will see you for your assigned income-based co-pay. Just ask them to refer you over to our office for a visit with Dr. Kerr Patrick and we will be all set to see you!
And last but not least, Dr. Kerr Patrick is proud to be a member of The Patriot Project, providing chiropractic care to military members. Every military member is entitled to one free adjustment annually.
Please give us a call if you have any questions.

Giving Back
With a steadfast desire to give back, our practice is pleased to support a different charity each month. We choose a charitable organization, and $1 from each adjustment in that month is then donated to that charity. See our Giving Back page for a list of some of the many charities we've supported.
How to Find Us
Healing Touch Chiropractic in Mobile is on Hillcrest Road between the cross streets of Airport Boulevard and Grelot Road on the west side of the road. We're two structures south of Rich's Car Wash in a parking lot with two matching two story red brick buildings. You'll find us in the one that's closest to the car wash. We're on the first floor.
Contact us today to book an appointment!
---
Chiropractor Mobile AL | Healing Touch Chiropractic